Since we deal in "scrap" materials, we use this word to help us keep in mind what our commitment is to you, our valued customer: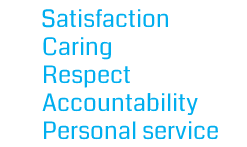 Welcome To Pasadena Recycling
Go Green for the Green!
At Pasadena Recycling, we offer you the best computer recycling and metal recycling services in the state of Maryland. We offer environmentally sound services at competitive prices with customer service that few in our industry can match.
Pasadena Recycling offers recycling services for:
• Computers
• Electronics
• Ferrous Metals
• Non-Ferrous Metals
Additionally, we provide:
• Clean Out Service
• Demolition Work
• Roll-Off Service
• Bobcat Work
Please browse our website for more detailed information regarding our services, as well as our company. We provide recycling services throughout Maryland, including Curtis Bay, Pasadena, Baltimore, and beyond. We also provide services in Washington DC and Virginia. We service school systems, small and large businesses, government agencies, homeowners, and the general public.
Contact us today to find out why Pasadena Recycling LLC is your best option for computer recycling and metal recycling services in Maryland!