Since we deal in "scrap" materials, we use this word to help us keep in mind what our commitment is to you, our valued customer: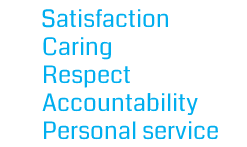 About Pasadena Recycling Center
Pasadena Recycling, located on Fort Smallwood Road in Pasadena, Maryland, has been in business since 2007. We chose the computer/electronics and metal recycling industry because we wanted a way to make a living, while also doing something for our community and our world.
We are here to help you rid yourself of your old computers and electronics, as well as your scrap metal, in ways that are helpful to the environment that we all share. As an added bonus, we can also save you money!
Pasadena Recycling is a small, family owned company. You'll feel that from our first encounter, whether by phone, email, or in person. We treat every customer with respect and we will make you feel that you are a part of our family. In addition to our superior knowledge regarding the recycling services that we provide, we also excel at the customer service experience.
For all of your Maryland computer, electronic, or metal recycling needs, contact Pasadena Recycling today and let's get started!